The Case for Going Solar
March 5, 2015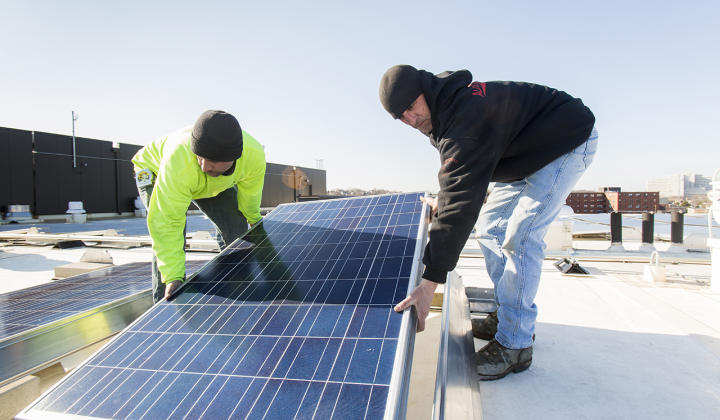 With the retirement of coal plants, like the Mt. Tom and Brayton Point facilities, and the closing of the Vermont Yankee nuclear plant, Massachusetts has the opportunity to rethink its energy future.
As public officials, utilities, and the public evaluate the best long-term investment strategies to meet Massachusetts' future energy needs and power our economy, they should remember that we have an abundant source of clean, local energy that literally falls from the sky.
Solar is here and now, and it's working for Massachusetts. Since 2006, solar energy has grown 200-fold in our state. Massachusetts is a national leader for solar — far ahead of states like Texas and Florida — thanks to support from our state officials and the Commonwealth's commitment to a clean energy future.
Solar is a key solution to rising energy costs. The price of solar energy continues to fall rapidly — in fact, the same solar installation costs half as much today as it did ten years ago. After the initial payback period (typically 4-8 years with current incentives), solar users benefit from free electricity for the next 20 years or more. Solar also lowers demand on the grid during peak hours and reduces the need for expensive transmission and distribution system upgrades, which results in lower energy costs for all.
Solar has brought significant benefits to our economy as well. According to the Massachusetts Clean Energy Center, the solar industry supports more than 12,000 jobs in Massachusetts, in the fields of manufacturing, design, installation, consulting, financing, and more. Solar contributes to growing our economy right in our backyard — unlike fossil fuels, which are all imported from other states. And while the overall employment growth for the state was less than 2%, the number of workers primarily working in the solar industry grew more than 12% in 2014.
More and more, solar energy is something that everyone can take advantage of. Low-income communities are benefitting from solar power thanks to innovative programs from Boston Community Capital and other organizations. People who can't install solar panels on their houses (because their roof faces the wrong direction or there's too much shade), or who don't own their own homes, can participate in community shared solar projects.
The benefits to the environment and public health are obvious: less of the carbon emissions that fuel global warming, less particulate matter in our air, less mercury in our water, and less of the nitrogen oxides and sulfur oxides that contribute to smog.
Within the next decade, solar can provide for a significant and growing chunk of Massachusetts' electricity needs. Solar energy can help Massachusetts reduce its carbon emissions while growing our state's economy and keeping electricity costs under control. And solar can help us avoid costly mistakes like a multi-billion-dollar investment in a new gas pipeline.
But it's going to take support from state officials to make it happen. Here are three steps that will keep us on the right path:
Governor Baker should lead the way by committing to an ambitious but achievable goal of 20% solar by 2025.
The legislature should build on Massachusetts' successful solar programs. In particular, we need to raise the net metering cap (and do it in a way that's sustainable, so we don't need to revisit the issue every year or so).
Finally, we should make sure that the benefits of solar are available to all, including low-income families, renters, and homeowners whose houses can't accommodate solar installations.
Over the coming months, Massachusetts has some important decisions to make around energy. We all want a clean energy future. Solar is ready to take us there.