Solar power could deliver $400 billion in environmental and public health benefits
May 22, 2016
Solar power could deliver $400 billion in environmental and public health benefits in the United States by 2050, according to a study from the U.S. Department of Energy (DOE)'s Lawrence Berkeley National Laboratory (Berkeley Lab) and National Renewable Energy Laboratory (NREL).
Solar is already delivering annual benefits of $1.5 billion. Those benefits come in the form of:
Annual reduction of 17 million metric tons of CO2, which is, based on the central estimate of the social cost of carbon, "equivalent to an annual global benefit of $700 million."
Annual reductions of "10,000, 10,300, and 1,200 metric tons of SO2, NOx, and PM2.5, respectively ... which provide annual domestic air quality benefits of $890 million."
Annual water "withdrawal and consumption savings of 294 billion gallons (0.8% of power sector total) and 7.6 billion gallons (0.5% or power sector total), respectively, with much of those savings located in drought-impacted California."
The $400 billion in benefits would be achieved by realizing the goals of the Department of Energy's Sunshot Initiative. This program is aimed at lowering the installed solar costs down to 6 cents a kilowatt hour by 2020. The program is about 70% of the way to achieving this target. Lowering solar costs to this level could lead to the expansion of solar to 14 percent of US electricity by 2030 and 27 percent by 2050.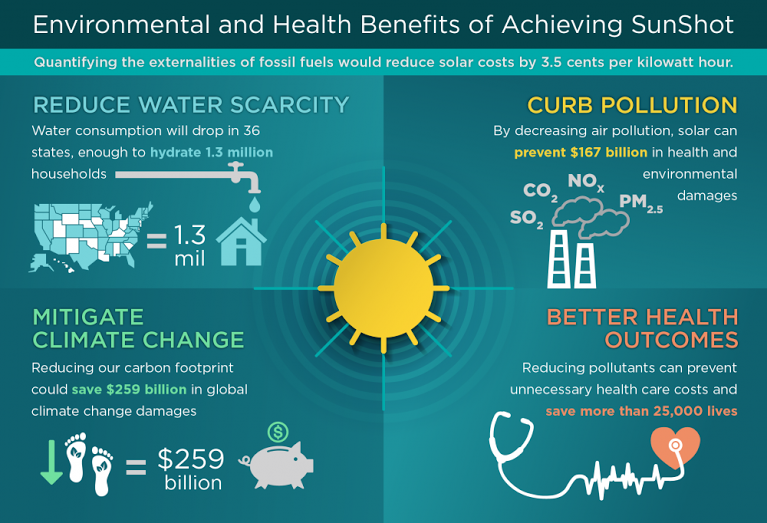 Read more here.