Solar Legislation Signed
April 14, 2016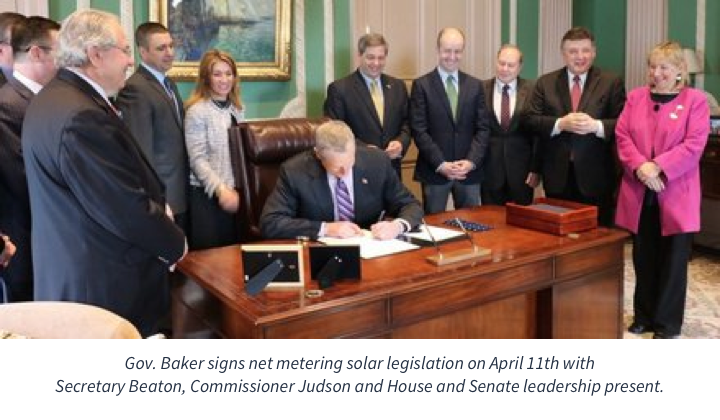 Governor Charlie Baker (R) on Monday signed into law a compromise bill lifting Massachusetts' solar net metering cap and lowering remuneration rates for large-scale systems.
Baker's approval comes after months of contention over solar policy, including two competing bills from each house of the state legislature. The compromise bill was passed out of a joint legislative committee last week set up to reconcile differences between seperate proposals from the House and Senate.
The bill lifts the state's net metering cap by 3% for public and private installations and allows utilities to charge a minimum bill to cover fixed costs. It will also lower the net metering rate for large-scale distributed solar installations from the retail rate of electricity to a level close to the wholesale rate.
Gov. Charlie Baker (R) signed into a law a bill lifting the net metering cap by 3%, but critics say this is a short-term fix since the state has raised its cap before without substantial net metering reform.
Last year, a split in the legislature left the solar industry in limbo as lawmakers from both chambers couldn't come to an agreement on how to compensate distributed solar as utilities hit their net metering caps, which stalled solar projects.
At the time, the Senate pushed for remuneration credits closer to the retail rate of electricity and a cap high enough to reach the 1,600 MW solar goal set under former Gov. Deval Patrick (D) in 2013.
The House, meanwhile, took a less aggressive approach, looking to increase the cap on net metering by 2% and reduce the value of credits paid to large-scale solar owners from the retail rate of $0.16-$0.17/ kWh to the wholesale rate of $0.03-$0.04/kWh​.
The final bill passed by the joint committee appears to strike a compromise between both sides, raising the cap by 3% and keeping remuneration closer to the retail rate for smaller-scale solar projects, such as residential rooftop solar installations.
Previously, net metering projects were capped at 4% of the utility's load for private projects and 5% for municipal and government projects. The new bill would raise the caps to 7% for private projects and 8% for public projects.
Large-scale distributed solar projects — such as community solar arrays or big installations for C&I customers — will see their net metering rate fall to near the wholesale rate of electricity after the 1,600 MW goal is reached.
The bill also enables utilities to charge a minimum fee, acknowledging arguments from the utility sector that solar users aren't paying their fair share to maintain the grid.
Frustrated lawmakers and stakeholders earlier this year sent letters and petitions calling for action on distributed solar issues. More than 5,000 petitions and letters were sent to House Speaker Bob DeLeo (D), and 100 lawmakers sent a letter to their legislative compatriots demanding they protect retail net metering rates and lift the caps.