Solar development expected to slow in Massachusetts as net metering caps reached
March 19, 2015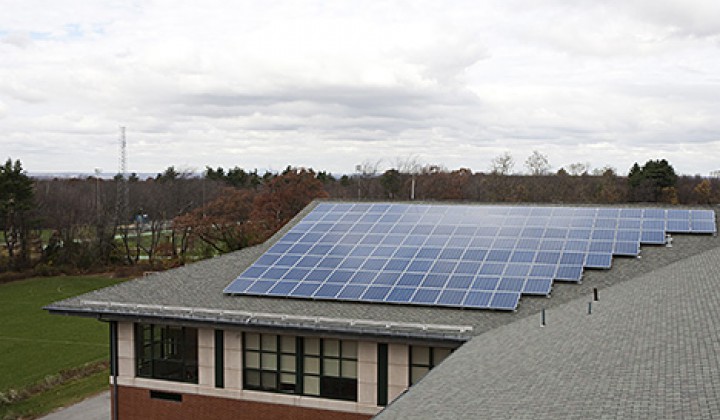 Last week, the net metering cap for public projects was hit in National Grid territory (see box highlighted in red below). This according to the latest report from the Massachusetts System of Assurance of Net Metering Eligibility. Development activity for municipal projects is expected to come to a halt unless the legislature raises the caps once again. About 15 megawatts (MW) remain under National Grid's private net metering cap (see "Capacity Available Under Cap" column). Unitil has about 1 MW and 2 MW remaining in its private and public net metering caps, respectively.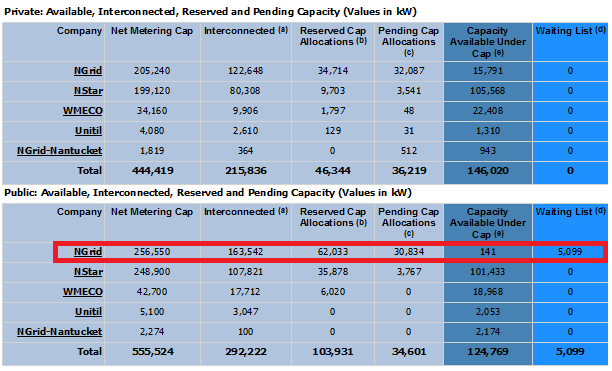 The need to raise net metering caps has become an almost perennial issue in Massachusetts as the caps are not aligned with the Commonwealth's 1600 MW solar target. Fortunately, several bills have been filed this year to address the net metering cap issue, with more than one proposing to raise net metering caps to meet the 1600 MW target. Solar development and the jobs associated with the Commonwealth's robust solar industry are at risk without legislative action. If net metering caps aren't raised this year, job losses at the more than 1,400 local solar companies will follow.
Net metering 101
What is net metering?
Net metering comes into play for customers who install an on-site clean energy system, such as solar, which is connected to the electric grid. When a customer produces more electricity than he or she consumes, the meter runs backwards as excess electricity is returned to the grid for others to use. The utility credits the customer for that electricity, generally at the same dollar per kilowatt hour (kWh) rate that the utility sold it to begin with. At the end of every month, a customer is billed for the "net" amount of electricity consumed. If solar electricity production is greater than consumption, the customer receives a credit on his or her electric bill. This credit rolls forward indefinitely, but is typically used up in the fall and winter months when less solar electricity is produced. Net metering makes installing solar power a smart economic choice, encouraging private investment in new, local power resources.
What are net metering caps?
Massachusetts "caps" the amount of solar that is eligible for net metering. These caps are set forth in statute and are based on each utility's historical peak megawatt energy demand. Current net metering caps are set at 4% for "private" projects and 5% for "public" projects of each utility's historical peak demand. As these caps are hit, new solar projects will no longer earn retail credit for the excess power returned to the grid–instead they would be credited for any excess power at roughly a third of the retail rate, preventing many solar projects from being financially viable. Residential systems 10 kW or less and many commercial systems 25 kW or less are exempt from net metering caps but community shared solar and larger solar projects are not.
Why was the National Grid public cap hit first?
The public caps tend to be hit sooner than private caps because regulations allow public net metering projects to be larger than private net metering projects. In terms of why the National Grid cap was hit first, net metering caps are hit at different rates in each utility territory because the availability of solar sites and the economics of developing solar vary across the Commonwealth. The cap is hit more quickly in National Grid's territory, which represents 45% of total net metering capacity in Massachusetts, because it is easier and less expensive to find sites suitable for solar. This is not the case in NStar (now EverSource) territory, where solar sites are limited and more expensive to acquire. And while solar sites are easy to find in WMECO territory, the utility rate structure makes the economics of many solar projects difficult.