Lift the solar net metering cap
July 13, 2015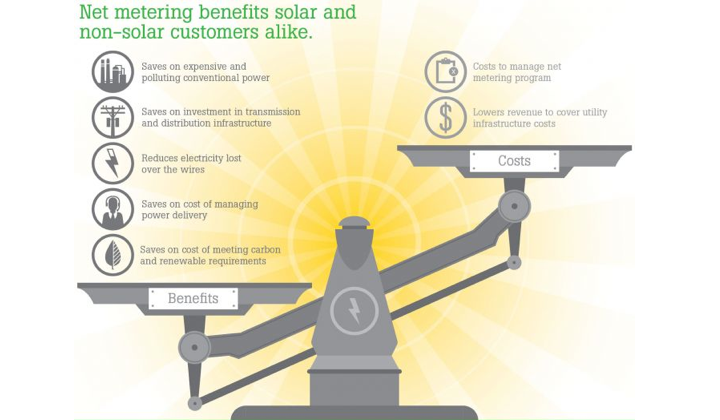 DESPITE THE INCREASED ADOPTION of solar power in Massachusetts, the right of every citizen to have access to predictable and clean power is in danger. And it's up to industry leaders and neighbors alike to speak up, and protect the solar industry. There's an item on the agenda that could put the 12,000 clean energy jobs created in New England at risk: the net metering cap. To support jobs in New England, and the clean energy industry as a whole, it's time to tell legislators to raise the net metering cap.
Net metering gives customers fair credit on their utility bills for clean power that they deliver to their local power grid. There's a cap in place on how much solar power the utilities are required to accept from local solar projects. By raising the cap, we can protect clean energy jobs. What's more, we can expand community solar, which allows the 85 percent of people in Massachusetts whose roofs aren't quite right for solar rooftop panels an opportunity to reap the benefits of the sun.
There are literally hundreds of solar projects that are on hold because the cap has been hit in National Grid territory, and is quickly being filled in others. Some in the business sector argue that raising the cap and giving more power to renewable energy will drive jobs out of Massachusetts, and hurt our economy. Opponents to raising the net metering cap say that unless you go with the cheapest source of fuel, you'll drive energy costs up in the state. And, those higher costs will eventually lead companies to move jobs out of state.
They're wrong.
When you talk about the costs to support solar, it's fundamental to look at both the benefits and the investments. The more reliant we are on natural gas for generating electricity, the more we'll see price spikes like we did this past winter, where the average bill jumped more than 30 percent. Some say the solution is to build a bigger pipeline. But building that pipeline not only adds to the cost of infrastructure, it doesn't eliminate our problem of an unstable energy economy. It's now clearer to many that diversifying our energy sources will help stabilize future energy costs. And to move in that direction, we need to raise the net metering cap, and let solar thrive.
With the adoption of the Regional Greenhouse Gas Initiative and other policies, energy costs have gone down, the gross state product has risen nearly 70 percent and has added a net $1.6 billion to the economies of the RGGI states– all the while, greenhouse gases have gone down more than 10 percent. To say that jobs are not compatible with a diversified and reasonable cost infrastructure is ludicrous. Some say diversifying energy will lead to a downturn in manufacturing jobs. But, according to the University of Massachusetts Donahue Institute, manufacturing employment has been stable since 2008. That year was also the year the first major solar legislation passed, the year companies like Next Step Living were founded, and the year that solar started its growth in the Bay State. It's difficult to justify the ire when manufacturing has seen stability since the very year solar became a priority.
And why is that? There's predictability with solar that you can't maintain with natural gas. Fluctuating natural gas costs don't just affect the typical homeowner. Business owners and employees are affected, too. Difficult decisions have to be made to work around the constant variance of supply and demand of natural gas resources. Furthermore, with every dollar the Commonwealth invests in growing solar, over $2 in benefits for residents and businesses will be generated, according to studies done by the Net Metering and Solar Task Force.
All of these points lead back to our recommendation to invest in solar power.
We're lucky that the Bay State has become a leader in solar. We've proven that we can keep up with the leaders in this industry. And we're proud to be a part of that.
We won't deny that there's a cost to invest in renewable energy, but there's a cost to do anything. When you consider the benefits and the cost, investing in renewable energy is a better, smarter path than to leave our economy at the mercy of natural gas price fluctuation. That's the conversation we need to be having.
It's time, Massachusetts, to let your Legislature know that solar needs to be on their priority list. Look up your representative at WhereDoIVoteMA.org and tell them: We need to raise the net metering cap. We need to encourage our government to take advantage of predictable costs, and not give in to uncertainty.
Geoff Chapin is CEO and Founder of Next Step Living, a home energy efficiency company in Boston, and a member of the Net Metering Task Force. John P. Dumas is business manager of the International Brotherhood of Electrical Workers Local 103.