ELM Action Fund calls out utilities in Globe ads
February 12, 2016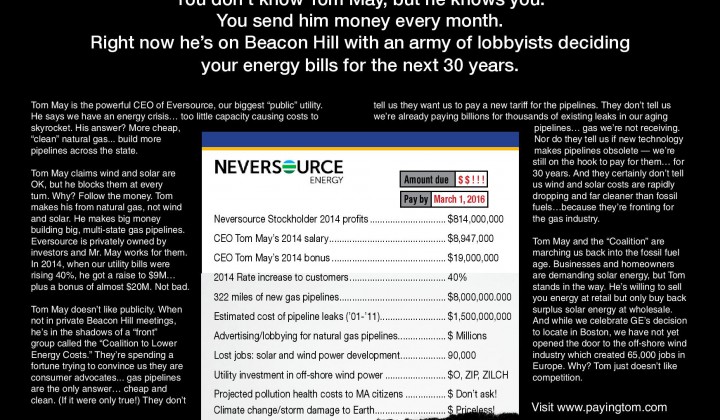 The Environmental League of Massachusetts Action Fund, fed up with utility efforts to negatively influence energy policy on Beacon Hill, has recently placed two ads in the Boston Globe calling out Eversource and executive Tom May.
In an email sent to supporters yesterday, the organization says:
These ads "call out" the utilities. They are not "public" utilities and they are not working in our interests. They are owned by stockholders who demand a return on investment…at our expense. If you follow the money, they make their profit on gas pipelines and make no money on wind and solar. Their position is clear.
We are up against the multi-million dollar lobbying and advertising campaign of the utilities, the gas industry front group called the Coalition to Lower Energy Costs, and the powerful Associated Industries of Massachusetts (AIM). This past week, they put extraordinary pressure on us to stop this campaign, but we won't back down and with your help we will continue to push forward.

We are determined to make Beacon Hill commit to renewable energy…wind, solar and hydro…and the jobs that go with it... With the state legislature deciding our energy future for the next 30 years, now is the time to push back.
ELM Action Fund has also sent a letter to the Associated Industries of Massachuetts, challenging their scare tactics around soalr power.