A Lump of Coal - Solar Capped in Unitil Territory
December 28, 2015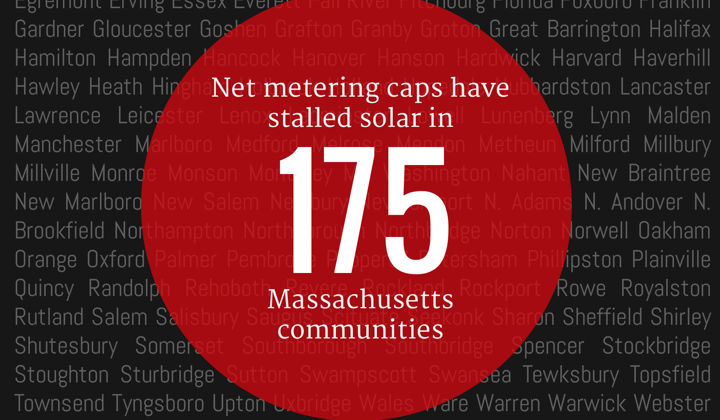 The Massachusetts legislature ended the year with a flurry of last minute activity – but ended up taking no action to lift the net metering caps - leaving over 132 MW of solar projects on hold. To put that number into context – that is roughly half of all the solar projects installed in the Commonwealth during the entire year of 2014.
The legislature's inability to lift the caps has now added Unitil to the list of utilities with solar projects on hold. We now have solar projects on hold in 175 communities across Massachusetts.
Those projects create good clean energy jobs here in Massachusetts. The latest numbers show that solar is responsible for 15,000 jobs in the Commonwealth and cutting solar projects across half the state puts at least half of those jobs at risk.
With an average selling price for solar projects somewhere between $2.50 and $3.00 a watt, the value of those projects is between $335 million and $400 million dollars. That includes $100 million to $120 million in federal tax credits that we will not receive here in Massachusetts.
Those projects will generate 155 million kWh of solar electricity each year, or 4.6 billion kWh over the useful life of those arrays. That electricity is worth $1.2 billion in energy savings for the Massachusetts customers of those arrays. That is money that stays right here in Massachusetts and keeps working in our local economy.
Those projects will provide enough electricity to power more than 20,000 homes or 60,000 electric vehicles.
They will eliminate over 2 billion metric tons of CO2 equivalent emissions over their useful life. Those CO2 emission reductions are worth $132 million dollars in health benefits according to White House social cost of carbon tables.
This does not count the health co-benefits from reductions of SOx, NOx, particulate matter and other toxics like arsenic, cadmium, chromium, uranium. A recent Stanford University study estimates the health benefits of those reductions at about $560 million dollars.
So the cost of those stalled solar projects by the numbers is...
$335 to $400 million in project revenue
$1,200 million in electric power generated (money that stays here)
$132 million in health benefits from CO2 reductions
$560 million in health benefits from air pollution on other toxics reductions
Those solar projects are worth $2.2 billion in benefits to the Commonwealth at large.
And that's not counting the value of 15,000 high quality jobs in the Commonwealth.