DPU okays adjustment to National Grid's net metering caps
April 2, 2015
On March 31, the Department of Public Utilities (DPU) approved a petition filed by National Grid (Company) in mid-February to adjust capacity under the Company's caps. This request was filed after an internal review revealed that solar projects had been included under the wrong cap. As a result, the Company requested that the DPU direct The Cadmus Group, in its capacity as the administrator of the net metering System of Assurance, to add about 15 MW of interconnected solar projects to its public cap and remove about 16 MW of interconnected solar projects from the private cap. You can view the Company's petition here.
The Solar Energy Industries Association along with several solar developers active in the state opposed the Company's petition because of the impact it would have on public solar projects already under development and the market disruption that would occur because of the already limited capacity under the Company's public cap. The DPU, however, likely felt constrained by law, which clearly spells out how net metering caps are set in each utility territory, leaving it with very little room to decide to allocate net metering capacity to caps where it didn't belong.
The DPU's approval of the Company's petition puts about 16 MW of additional capacity under the National Grid private cap. This creates space for new projects that didn't exist before this ruling. It's good news for some, but with 13 MW of solar projects currently on the private cap waiting list, it seems like that the cap will be hit almost immediately (see chart below) putting us right back where we were a few days ago. Almost half of the solar market in the state will be stalled and new community shared solar, low income solar and municipal solar projects won't be able to move forward without legislative action to raise net metering caps.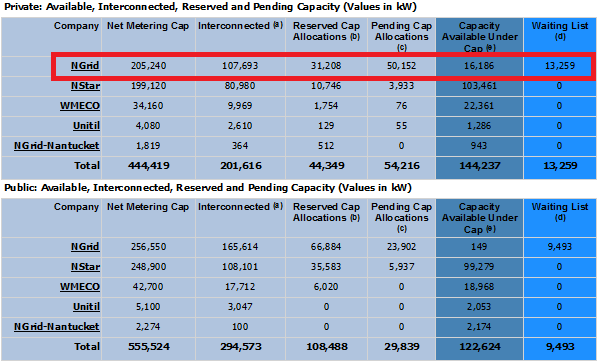 The DPU docket for this matter is D.P.U. 15-11 and can be viewed through the DPU file room, which is available here.